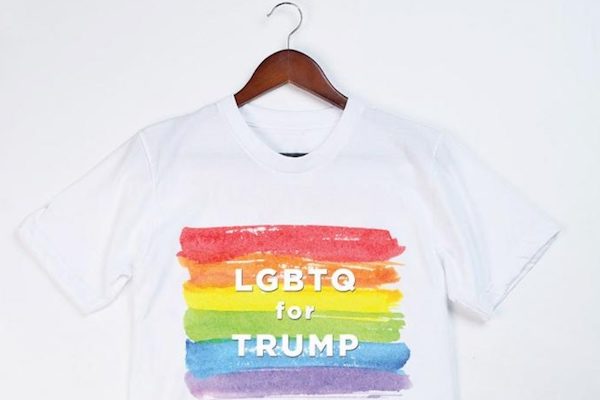 (Photo via Twitter)

As Pride month approaches and corporations get in on the Pride action with rainbow-colored products galore, Donald Trump has now unveiled his own Pride merchandise.

The shirt, described as an "exclusive equality tee," features the words "LGBTQ for Trump" written in white font over a rainbow background. The T-shirts are available in sizes S to 3XL and retail for $24.

In 2016, Trump vowed that he would "do everything in my power to protect our LGBTQ citizens from the violence and oppression of a hateful foreign ideology."

However, after taking office the Trump administration wiped any mention of LGBT rights from the White House website. As his days in office ticked by, Trump issued a transgender military ban; the White House ignored World AIDS Day; proposed a budget cut to global HIV programs; and proposed to roll back protections for transgender people in health care.

The irony behind Trump selling Pride T-shirts despite attacking LGBTQ rights wasn't lost on some LGBTQ advocates who took to social media to denounce the product.

This is probably the stupidest, most hypocritical, most ridiculous thing I have seen today.
"LGBTQ for Trump"
(So, do you all think Pence has one?)https://t.co/PEsnnUccwm

— Time To Speak Up (@TimeToSpeakUp4) May 23, 2019

If LGBTQ people want to get outfitted for Pride Month, they should try our collaboration with @ASOS or the new @express collection, both of which benefit our work to accelerate acceptance.

— GLAAD (@glaad) May 23, 2019

Trump releases LGBTQ Gay Pride t-shirt the same day this headline is in the news: Homeless shelters could deny transgender people under proposed Trump administration rule

Let's also not forget the trans military ban. You can't make this shit up! @realDonaldTrump pic.twitter.com/370X4izg56

— The Daily Angle (@thedailyangle) May 23, 2019

Donald Trump and Mike Pence are leading an all-out attack on transgender people. They don't just want to discriminate against us. They want to see us harmed. They want to see us die. That is not hyperbole. The world needs to wake up and take notice of this. https://t.co/ZFcfY9URmg

— Charlotte Clymer
(@cmclymer) May 22, 2019

The post Trump reveals 'LGBTQ for Trump' T-shirts for Pride appeared first on Washington Blade: Gay News, Politics, LGBT Rights.