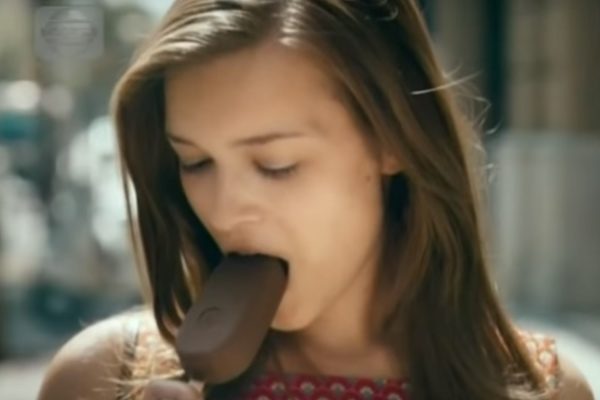 (Screenshot via YouTube)

Magnum is under fire for an ad that aired on Spotify in the U.K. which compared the "guilty pleasure" of eating ice cream to being imprisoned for being gay.

Newsweek reports that the ad features a narrator with "an indeterminate accent" saying, "A hug for my boyfriend—that's my guilty pleasure. Because in my country, just a simple hug with the man I love could send me to prison for more than 10 years."

Some people didn't think the "guilty pleasure" of eating ice cream equated with homosexuality being illegal in some countries.

I know most of y'all probs have Spotify premium so don't hear the ads, but really unsure about the Magnum ad that's talking about homosexuality being a "guilty pleasure" in countries where homosexuality is illegal, like thanks for the awareness but also like not okay

— Kyle Flynn-Davies (@kflynndavies) August 2, 2019

What the hell?!? There are at least 3 versions of the magnum ice cream ad that does a bit about being gay would get me X years in prison followed by a get a magnum, pleasure should be guilty. That's fucked. pic.twitter.com/T0j6Hbxl4g

— Tia (@Tatty_is_ALIVE) August 4, 2019

Magnum is comparing the guilt of eating an ice cream to the guilt of being gay in a country where homosexuality is illegal. Bold move Magnum, but maybe no:https://t.co/klfR0jtjpp

— Hidayah (@HidayahLGBTQI) August 9, 2019

An ad for #Magnum ice cream bars just popped up on my #Spotify and it is the cringiest/funniest gay baiting ad ever. A foreign accented man laments how dangerous it is to hug his boyfriend in his country, but he won't get arrested for eating a Magnum! pic.twitter.com/S6WdzW9p51

— Christa Blackmon (@TheOdalisque) August 2, 2019

@MagnumIceCream your advert comparing the potential to be killed if you're gay to the guilty pleasure of eating a magnum is disgusting, racist and homophobic. Please withdraw it immediately.

— nell blane (@firegoat67) August 5, 2019

A Magnum spokesman told Newsweek that the ad was meant "to remind people that what is considered a guilty pleasure isn't always what you would expect."

The post Magnum ad criticized for comparing ice cream 'guilty pleasure' to homophobic discrimination appeared first on Washington Blade: Gay News, Politics, LGBT Rights.