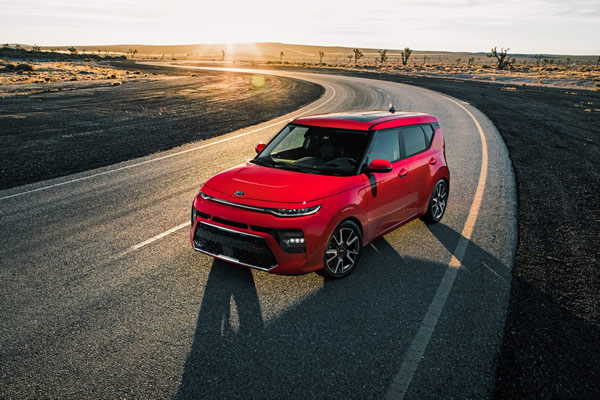 Kia Soul
From the pandemic to Wall Street pandemonium, the world is getting scarier by the day. All this talk about hand washing and sani-wipes reminds me of a recent study by the insurance company NetQuote. It noted the average rideshare vehicle has 35,000 times more germs than a toilet seat. Yikes! Luckily, driving your own vehicle doesn't seem so risky. As for the three compact crossovers I test drove below, all are affordable, reliable and, yes, extremely clean. 
KIA SOUL 
$22,000
MPG: 27 city/33 highway
Kia certainly has a winning formula with the Soul: Funky, fun-to-drive and super affordable. Completely redesigned this year, this is the third-gen Soul since it was introduced almost 10 years ago. 
The design — a big leap from previous versions — is now showier, more like a Range Rover Evoque. Both have a thin strip of wraparound headlights, a snub-nosed hood and a pronounced grille that juts out like Jay Leno's chin. Yet the heart and soul of the Soul is pure bohemian, with backlit door panels that pulse to the beat of your favorite music. 
The perky 147-hp engine and precise handling are both a plus. So is the sky-high roof, which allows for plenty of visibility, cargo space and headroom. While the base-model Soul starts at $17,490, splurge a little for the X-Line with its special exterior trim and added safety features. Inside, the techy cabin is trendy and inviting, with dual-zone climate control, smartphone compatibility and a flat-bottomed steering wheel. 
A 7.0-inch touchscreen comes standard, though a new 10-3-inch widescreen display is available on upper models. Yes, there are a few quibbles: a bit more engine noise than expected and no all-wheel-drive option. But it's hard to beat such panache at this price.
MAZDA CX-3 
$22,000
MPG: 29 city/34 highway
While the Kia Soul is a hip hauler, the Mazda CX-3 is more of a hot hatchback. It sits low to the ground and has a sexy design that still seems fresh after being introduced a few years ago. Unfortunately, the severely sloped roof creates cramped rear seating and limited cargo space. But the front seats are soothing and well-bolstered. 
Overall, the cabin is quiet and upscale, with Bose stereo, smartphone compatibility and steering wheel paddle shifters. A raised infotainment screen in the center of the dash helps keep your eyes on the road, and the power liftgate is a nice touch. Crash-test scores are stellar, and various active safety features are now standard: head-up display, adaptive cruise control, adaptive/automatic headlights, lane-departure warning, blind-sport monitor, forward-collision warning and automatic emergency braking. 
For 2020, the CX-3 is only offered in one trim level and competes with the all-new, slightly larger and more expensive CX30. Translation: This is your chance to snag a great deal on a well-appointed CX-3.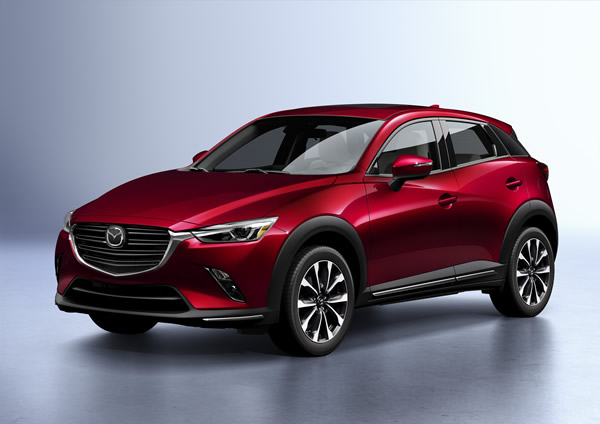 Mazda CX-3
TOYOTA C-HR 
$22,000
MPG: 27 city/31 highway
For decades, Toyota played it safe when it came to vehicle design. But with the cutesy C-HR two years ago, the automaker went from mild to wild. The choppy, in-your-face styling gets a slight refresh this year, with a sleeker front bumper, grille and headlights. 
There's also an edgier spoiler and wheel treatment, as well as optional silver roof. Inside a new gray headliner helps make the interior feel more spacious. Alas, the pokey engine stays the same. For anyone with a lead foot, this probably means fewer speeding tickets. For me, even though the C-HR is no dynamo, it's perfectly fine for puttering around town. It also rides smoothly over most road surfaces and fits in the tightest of parking spaces. Gas mileage for the C-HR is also good. 
What's most striking is the laundry list of standard features, even on the base model: LED headlights, power/heated side mirrors with integrated turn signals, 8-inch touchscreen, stolen-vehicle locator and more. Other models add more luxe-like features, such as auto-folding side mirrors, puddle lamps and ambient lighting. Basically, what the C-HR lacks in performance, it makes up for in flair, features and fuel efficiency.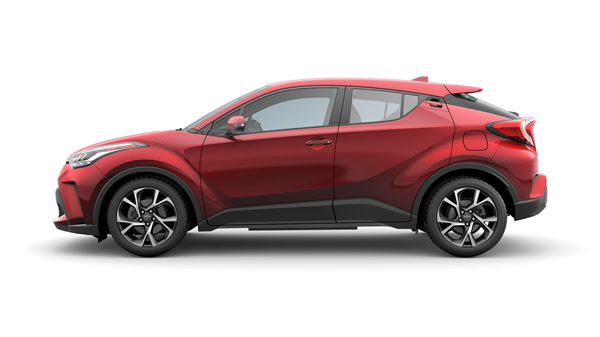 Toyota C-HR
The post AUTOS 2020: Cozy crossovers appeared first on Washington Blade: Gay News, Politics, LGBT Rights.