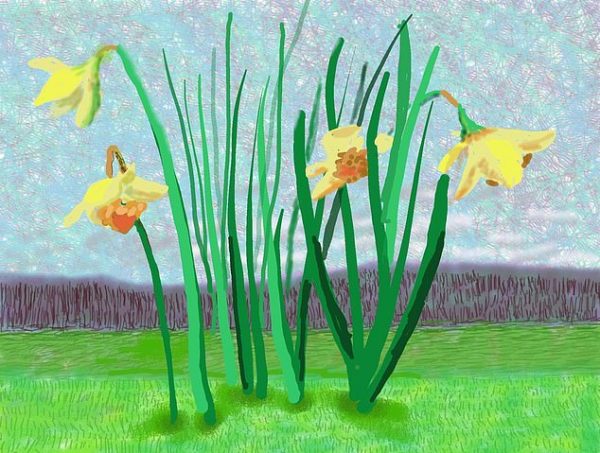 "Do remember they can't cancel the spring" by David Hockney (Image via Instagram)
One of the world's greatest living artists has delivered a much-needed message of hope with a new painting unveiled this week.
David Hockney, 82, shared the new piece on Thursday via Instagram, through Denmark's Louisiana Museum of Modern Art. A drawing composed on his iPad, the image depicts a cluster of bright yellow daffodils blossoming in the midst of a green field with a grey and barren landscape in the distant background.
The new work is titled, "Do remember they can't cancel the spring."
The British artist is a painter, draftsman, printmaker, stage designer, and photographer known as one of the key figures in the pop art movement of the 1960s. The iconic imagery he has produced includes a series of three swimming-pool-themed paintings – "The Splash," "A Little Splash," and "A Bigger Splash" – which are his most widely-recognized works. A 1972 work, "Portrait of an Artist (Pool with Two Figures)," set the record for the largest amount paid for an artwork by a living artist when it sold at auction in November 2018 for $90 million – though that record was subsequently broken when Jeff Koons' "Rabbit" sold at Christie's in New York for $91 million a few months later.
He has been openly gay throughout his career, exploring his sexuality through artworks such as "We Two Boys Together Clinging," named after a poem by Walt Whitman.
Hockney has been weathering the coronavirus lockdown at his home in Normandy, the northern French where he relocated from Los Angeles in 2018, jokingly citing the ability to smoke in restaurants as one of the reasons for his transatlantic move, according to The Daily Mail.
He told interviewers, 'I'd like to just work and paint, and to be able to smoke and eat in a restaurant at the same time. Thank God for Normandy. The French know how to live. They know about pleasure."
The post David Hockney shares new work as symbol of hope in pandemic appeared first on Washington Blade: Gay News, Politics, LGBT Rights.